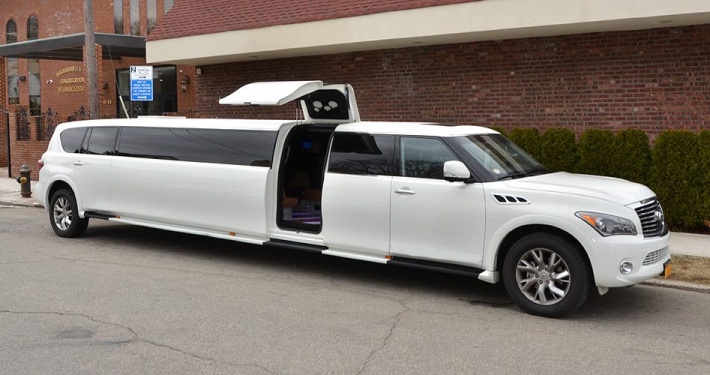 Indulge in Opulence: Infiniti QX56 Stretch Limo for 20 Passengers
Prepare to immerse yourself in unrivalled luxury with the all-new Infiniti QX56 Stretch Limo. This extraordinary vehicle boasts a spacious interior that comfortably accommodates up to 20 passengers, ensuring a remarkable and indulgent experience for all.
Step inside and discover a world of lavishness. The luxuriously equipped interior of the Infiniti QX56 Limousine offers an array of amenities designed to elevate your journey to extraordinary heights. Delight in the captivating visuals presented on two 12-inch flat screen color monitors, providing entertainment for all to enjoy. The stereo system, complete with CD and DVD players, delivers a premium audio experience, setting the perfect soundtrack for your extraordinary ride.
Prepare to be mesmerized by the mirrored ceiling adorned with multi-color fiber optic lights, creating an enchanting ambiance that captivates the senses. The solid walnut handcrafted console adds a touch of elegance and sophistication, showcasing the meticulous craftsmanship that defines this remarkable vehicle. A crystal display and amenity control panel further enhance the opulence, allowing you to tailor your experience to perfection.
The Infiniti QX56 Stretch Limo is a symbol of unparalleled luxury, designed to exceed your expectations at every turn. Experience the epitome of grandeur and reserve this extraordinary limousine today.
Limo service in NYC is available in New York (Manhattan, Brooklyn, Queens, The Bronx, Staten Island, Long Island), New Jersey, Connecticut and Pennsylvania.
Our company is one of the most reputable in the area. We are able to pick you up and drop you off at JFK, LGA, EWR, HPN, ISP, SWF, BDL and PHL airports.