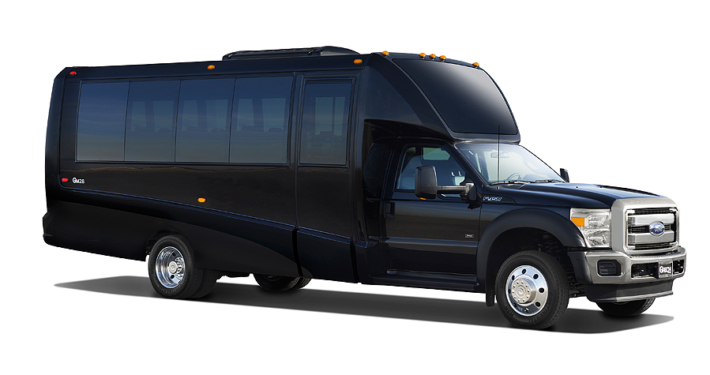 Mini Coach Bus: Unparalleled Luxury for 24 Passengers
When it comes to transporting your group in utmost comfort and style, the Mini Coach Bus stands as the epitome of perfection. With its executive-style seating and smooth ride, this luxury bus rental offers an ideal solution for shuttling conference attendees between airports, hotels, and event sites. Our professional chauffeur ensures that you have everything you need to relax, entertain your group, or conduct business seamlessly while on the road.
The Mini Coach Bus is the ultimate choice for a variety of NY car service needs, including airport executive shuttle service, travel between hotels and corporate events, conference shuttles, sightseeing tours, as well as executive transportation for dining and entertainment. With luxurious leather captain's chairs and ample space to stretch out, our Luxury Mini Coach Bus can comfortably accommodate up to 24 passengers. Every detail is meticulously designed to guarantee a relaxing, comfortable, and productive NY car service group travel experience.
Executive-style amenities allow you to conduct business presentations, engage in team-building activities, or simply unwind and entertain your group during the journey. Each Mini Coach Bus is equipped with 8 HD TVs or Overhead Monitors, a DVD player, Ipod/Iphone adapters, HDMI inputs, On-Board Wi-Fi, and a PA System. Additional features include sophisticated wood flooring, personal power outlets, and large panoramic windows that offer both optimal sightseeing opportunities and privacy.
At Limo Service In NYC, our Professional Chauffeurs are highly experienced and prepared to meet all your group's needs. With an average of over ten years of driving experience, our chauffeurs undergo continuous training and testing to ensure their exceptional knowledge of every vehicle, venue, and transportation route. Your luxury bus rental chauffeur and vehicle preferences can be conveniently saved in your personal client profile within our Limo Service In NYC Car Service system for future use. Moreover, we employ state-of-the-art technology, including satellite tracking of vehicles, to provide secure and safe travel for executives.
Executives and corporate planners repeatedly choose Limo Service In NYC for their NY car service group travel arrangements because we offer the perfect vehicle for their specific venue, accompanied by the most experienced professional chauffeurs, ensuring an unparalleled level of customized, luxury service.
Limo service in NYC is available in New York (Manhattan, Brooklyn, Queens, The Bronx, Staten Island, Long Island), New Jersey, Connecticut and Pennsylvania.
Our company is one of the most reputable in the area. We are able to pick you up and drop you off at JFK, LGA, EWR, HPN, ISP, SWF, BDL and PHL airports.