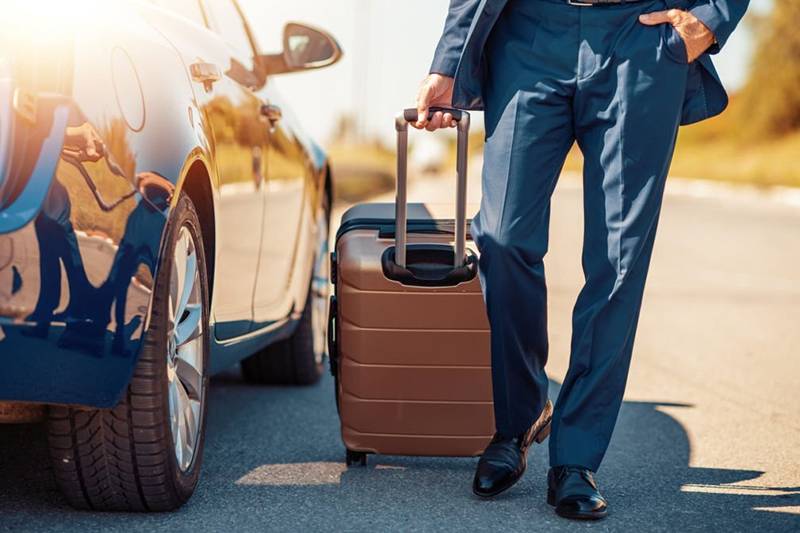 You can expect hassle-free point-to-point limo service when you book a single ride or a roundtrip with NYC Limo Service. Who can compete with the exceptional service the best local chauffeurs provide and the comfort of the phenomenal NYC Limo fleet? Everything included in the NYC Limo package is intended to make your transportation more accessible, enjoyable, and practical. You'll appreciate the local point A to point B limo services, especially if your days are hectic and you need to stay on top.
JFK to Javits Center, LaGuardia to Times Square, or Newark Airport to Lower Manhattan? Choose NYC Limo Service, if you want to arrive on time and travel stress-free. This local livery service is more than a luxury transportation company, whether you need a limo for the day or point-to-point car service to and from a business meeting. NYC Limo's Service mission is to create customizable limousine experiences that meet the needs of all clients.
Do you want to plan a limo pickup from LGA for a long-term client or a team-building weekend in the Hamptons? What about roadshow transportation in the New York City area or airport-to-hotel transfers during the conference in Midtown Manhattan? NYC Limo Service has ideal solutions for all New York City business trips. Pre-book your JFK limo and enjoy first-rate chauffeur service!
High-end Transportation between Airports and Times Square
Visitors can reserve a limo from any New York City airport and explore one of the most exciting cities on the planet from the most comfortable back seat of a Chrysler 300, Lincoln MKT White Limousine, or MKT Black Limousine. If stretch limousines aren't your thing, you'll be relieved to know that NYC limo service has a chauffeured vehicle to suit all tastes and occasions. Rent a Mercedes Oldtimer, a luxury sedan, or a powerful and safe SUV.
With the most dependable limousine rental in the area, you can visit Times Square, Grand Central Terminal, Rockefeller Center, Empire State Building, Central Park, 9/11 Memorial and Museum, Brooklyn Bridge, East Village, and all other landmarks and neighborhoods in this incredible city.
Limousine Service That Is Both Elegant and Affordable
One of the most popular livery services offered by NYC Limo Service is point-to-point car service, which is designed to meet the needs of the modern traveler. The best chauffeur service in New York provides quick and discrete rides and meets each passenger in spotless, elegant automobiles. Regardless of the type of chauffeured vehicle and destination, every client will experience the same level of luxury and glamor, as well as a dependable, skilled personal driver. This chauffeured car service is highly convenient when you need to arrive at your destination without wasting time with unreliable taxis or public transportation.
Given the highly positive client feedback for NYC Limo's Hourly Service, the most dependable team has decided to introduce door-to-door limo service near the airport in the hopes of carrying out the clients' requests to the smallest detail. Maintain a simple and convenient transportation system, and arrive on time for every meeting or event.
On the other hand, hourly limousine service is a better option if you want to keep your plans flexible and have a chauffeur on demand without a time limit.
Limousine Rates that are Transparent for Every Budget
When it comes to comfort and style combined with a low-cost limousine service, get ready to dive into the NYC Limo Service demonstration of what client service should be. All black car services near NYC offered by New York Limo Service are designed to fit every budget, with no unexpected expenses, hidden fees, or unpredictable charges. NYC Limo Service has remained one of the industry's most reputable and trustworthy New York limousine companies.
When you choose New York's best chauffeur service, you'll realize the cost is minimal, and the benefits are priceless.
Airport Transportation from Point A to B
JFK-Midtown, LGA-FiDi, or EWR-Times Square? NYC Limo Service will transport you from the airport to any location in New York City. Pre-arrange airport transfers with a personal driver, and you'll know you'll arrive in style. Even if your flight is delayed or rescheduled, the NYC Limo Service team will track it and wait for you when you arrive. This NYC airport limousine service is the most dependable due to its formal-dressed chauffeurs, a vast selection of the finest automobiles, 24/7 customer support, and customizable services.
Transportation to and from Sporting Events and Concerts
Choose point-to-point or hourly car service to have fun without jeopardizing your safety. Private drivers from New York's most dependable transportation company will arrange curbside pickups for the entire group, a timely and quick ride to the stadium or live music venue, and a safe ride home for each passenger. You can rely on your responsible, experienced chauffeur even if you've had a few drinks or are exhausted.
Travel from Brooklyn to Citi Field, Madison Square Garden, Barclays Center, Yankee Stadium, Red Bull Arena, MetLife Stadium, or another stadium or arena near New York City. Radio City Music Hall, Carnegie Hall, The Knitting Factory, and The Fleet for Kings are all part of the Best Limo Company in New York.
NY Limo Service is the area's leading transportation provider, inviting you to indulge in a variety of luxurious black cars and stretch limos near Manhattan, among the finest vehicles on the market. This limousine company will become your number one on-demand ride provider, no matter where you go, with spotless and immaculate maintenance, an awe-inspiring interior, and an impressive exterior. Combine your point-to-point service with a fleet worthy of the king's approval – and turn your transportation routines into an oasis in your daily life.
Online Limo Driver Hire!

A simple and convenient reservation widget is the simplest way to book a limousine in New York. If you prefer to make a phone call, at any time of day!
To find NYC Limo Service, search for "NYC limo near me," "black car near me ," "JFK limousine service," or "hourly chauffeurs in the area" online. Contact us to amp up your New York adventure!
Private Point-to-Point Transportation in NYC
We provide pickup and drop-off services between two addresses in the New York City area. Book with us ahead of time and enjoy the ride with us. We will arrive on time and pick you up in any vehicle from our luxury fleet. You can schedule a round trip to return you to your original location or make any additional stops.
Our vehicles are always clean, and our drivers are always on time and available for point-to-point transfers, airport rides, nights out, and other private transportation services. You can get free quotes for any of our limo services in New York City.
Advantages of Point-to-Point Limo and Car Service in New York City
When booking any of our chauffeured services to a location, selecting a point-to-point service may be the most cost-effective option. You pay a set price for that trip based on the addresses you enter into our quote system when you book. However, if you are unsure which service is the most cost-effective, please contact us, and we will assist you in selecting the best transportation service and vehicle for your ride.
Ride In Style To Your Next Destination
Limo Service in NYC, the premier provider of point-to-point car service in New York City and the Tri-State area. Our professional, courteous chauffeurs are the best hands you can have behind the wheel the next time you need a ride. We leave no room for guesswork or error, always arriving on time and ensuring that your travel needs are met!
Our drivers will transport you within the city limits from any point in New York City to your next destination. We will always be prepared to assist you, whether you need a ride to the airport, a quick drop-off at a restaurant, or a ride to an important business conference.
You can expect smooth transportation with no delays or breakdowns; our trained chauffeurs will handle any hiccups and ensure your timely arrival. Above all, Limo Star NY's point-to-point limo service provides comfort, style, and luxury!
Select a High-Quality Point-to-Point Transfer in New York City
Getting from one location to another in New York takes a lot of work. Hiring a luxury car service to take you around town is the most convenient option, whether you need to get to your destination on time or want to save as much time as possible. Our point-to-point transfer service will take you anywhere you need to go in comfort and on time.
If you want to visit the best restaurants in New York, such as the incredible Daniel, the luxurious Le Bernardin, the renowned L'Atelier de Jol Robuchon with its stunning view, or others, our chauffeured services are available.
You will receive an exclusive point-to-point transfer in New York when you book with us.
NYC Limos Service is constantly taking care of everything to ensure that we provide a consistent, dependable, and high-quality car service. Our operations team monitors weather and traffic conditions, adjusting our services as needed to account for all variables that may affect your travel plans.
We provide fully dedicated specialists, including your personal account manager, to provide you with the most efficient solutions for managing corporate travel, general group, and event transportation logistics.
New York City Point-to-Point Limo and Car Service
Our point-to-point service will pick-up you up on time and take you to your destination, whether it's the US Open in Queens, Metlife Stadium in East Rutherford, or the Borgata in Atlantic City, NJ, for travel between New York City and other surrounding areas such as Long Island, Westchester, Connecticut, and New Jersey. Favorite summer destinations such as the Hamptons on Long Island are top-rated and far superior to traveling by bus.