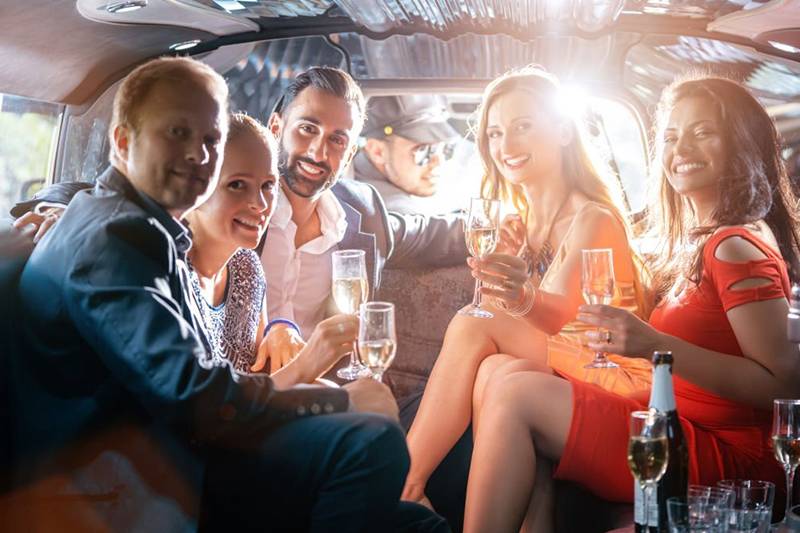 Party the night away in a luxury chauffeured limo Party Bus near New York that can accommodate all of your friends and take you on a tour of New York or carry you to the following party site in a positive manner. To reserve the best party bus in your neighborhood, contact NYC Limo Service.
We Will Provide The Rest, And You Will Provide The Party
NYC Limo Service offers more than just "transit to enjoyment." We bring the fun to you in style! We are ready to show you the pleasure of your life with our opulent New York Party Bus Rental Service, whether a 10-year reunion, a Super Bowl party or a special occasion.
Our party buses are well-appointed and equipped with modern amenities, ensuring exceptional value for your money. Our chauffeurs are well-trained and experienced and will provide you with safe, dependable, and on-time service. Our party bus fleet includes vehicles with different passenger capacities, such as 56, 46, 36, 35, 24, 14, and 11-passenger buses. It is ideally suited to accommodate your travel needs for birthdays, anniversaries, and other festivities. Please choose from our variety of party vans, Coach Buses, and minibusses to find the best match for your needs. Our deluxe coach buses and minibusses have climate control, DVD video and audio capabilities, toilets, reclining seats, and public address systems.
Our drivers are adept at handling Manhattan's busy streets safely. Rent a party bus to an exciting basketball game at the Barclays Center or Madison Square Garden. Whether it's Valentine's Day or New Year's Eve, we'll make your party transportation unique. Let's enjoy riding in one of our buses to your event. We provide a variety of travel packages for special occasions such as shopping trips, birthdays, proms, and nights out on the town. Are you considering a wine tour? Undoubtedly, one of our many winery tour packages will appeal to you. Our Party Buses are akin to mobile private clubs, packed with great sound systems and eye-catching light shows. We party a lot and are complex, so we can show you how it's done.
On-Time Service

Friendly And Professional Staff

24/7 Dispatch

Well-Maintained Vehicles

2-Way Radio

Phone Representatives 7 Days A Week

Trained and Skilled Drivers in All Types Of Bus
Why Choose Us?
Our bus services are ideal for transporting guests to birthday parties, Sweet Sixteen, Bar Mitzvahs, and Quinceaneras. Our bus service is popular and in high demand nearly 365 days a year, so please book well in advance to ensure vehicle availability. We also provide early bird discounts, so it's a win-win situation for you.
Best Party Bus Rental Services in New York
We all enjoy throwing parties and need a little reason to do so, such as a birthday or anniversary, a good soccer or basketball game, or prom night. The journey to a party can be a source of joy in and of itself. You only need a massive number of visitors and a luxury, fully-equipped limousine.
A Party Bus Offers Comfort, Style, And Elegance. Travel Safely and Punctually
Wi-Fi, a fully stocked bar, a music system, snacks and beverages, and other facilities are provided by party bus rental businesses. As a result, the celebration begins even before arriving at the place. Hiring a reputable party bus rental company will ensure a fun, fascinating, and joyful trip.
We are overjoyed with our new Inclusive Limo New York Party Buses and Limousines! We offer NYC Party Limo Bus and New York Party Limo Bus service across the tri-state area, including Long Island, Queens, Brooklyn, the Bronx, New York City, and New Jersey. A New York Party Limo Bus is similar to a mobile nightclub, providing you and your friends with safe transportation to any lounge or party you like to attend. You will arrive in style with a licensed designated driver.
We are excited to introduce our brand-new New York Party Limo Bus and Limousine, which can accommodate 18 to 40 people!!! Our brand-new NYC Party Bus Rental can seat up to forty people. 
For your complete comfort and enjoyment, this New York Limo Party Bus has a 42-inch plasma television, five 15-inch televisions, a satellite dish for DirectTV, a surround sound stereo system that can connect to your smartphone, a DVD player, a CD player, a Play Station II, a lavatory, fiber optic lighting, mahogany wood, tinted windows, leather seating, and a fully stocked bar.
Our black or white midsize Luxury New York Limousine Party Buses comfortably seat 20 to 30 people and come fully equipped with everything you need to throw a party. Today, you may come in style on one of our outstanding New York Limousines and party on the limo bus with all your friends while enjoying every imaginable comfort and luxury! You will have so much fun on our New York Party Limousine Bus that you may not want to get off when you arrive.
Do you need to get the celebration started? Consider hiring a New York City Party Bus. A lot of fun on wheels! Celebrate your special occasion in style or enjoy a night out with your friends. You don't have to wait for the party to come to you. The improved sound system, which includes AUX connections, will allow you to listen to your music. Due to the excellent quality, you will feel like you are partying in a more intimate atmosphere in world-famous clubs. There is enough seating, and the NYC Limo Service, chauffeurs, will drive slowly, so your safety is not jeopardized.
You don't have to worry about driving after a few too many glasses of alcohol at the party. Your designated driver will move so you can spend time with your loved ones. Enjoy the most convenient New York party bus rental and have a fantastic time in the most elegant and appealing vehicles.
NYC Party Bus in a Reliable and Secure Manner
The limo drivers in New York City are genuine masters in their field, and they will safely and reliably transport you to your destination. Renting a party bus in the region could be a terrific alternative for a special occasion or simply relaxing with friends. You may either stay the night in it and party, or you can party on the bus between clubs, making sure the fun doesn't stop while you're on the road. The driver may pick you up from a single location or several. You can navigate while listening to music or make your path. You can board and leave the party bus, go to clubs, or make it your preferred party destination.
NYC Party Bus Rental Near Me

Rent a party bus from NYC Limo Service with high-tech equipment, LED lighting, and more. These buses have tinted windows for privacy, so you can relax and enjoy the event. Check out the neighborhood's most affordable group transportation rates, or call us for additional information about New York party buses and their amenities, and book your party on wheels right away.